The modern contemporary dance silhouttes overlay the movement of another pair of dancers - tango dancers caputered in long exposure photographer. One dancer provides the shape whilst the others provide the colour, both contributing together to create a modern contemporary dance composition.
These are canvas prints on white, available in 5 sizes.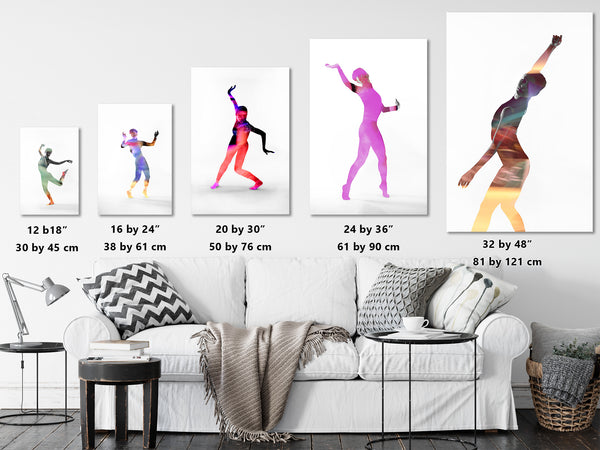 Frame Thickness
1.25 inch
Materials
Artist-grade poly-cotton blend canvas
Hard, high-density wood fiberboard and a plastic frame
Care
UV coating is scratch-resistant. Wipe clean with a damp cloth.
Product Note
We offer local production for the UK, Canada and Mexico, so that your order will ship from the production location within the same country as your end customer. All order routing is done in our system, so you don't have to worry about changing SKUs across orders and to make matters even easier, the product pricing is uniform across geographies. Keep in mind that 1/8" of bleed is included onto the sides of the canvas wrap when black or white borders are selected.
Packaging
Smaller Sizes - Clear poly bag, thin corrugated cardboard to protect corners and boxed.
Larger Sizes - Clear poly bag, Styrofoam protected corners and boxed.
Prints In/Ships From
USA (worldwide)
Canada, Mexico and UK (local fulfillment for domestic customers)